The Cabin at Glenking Tree Farm - "so near yet so far from it all!"
Carroll County's premier civilized yet rustic getaway is this lovely 1000 square foot, real log cabin built by the King Family in 1980 and operated as a bed and breakfast since 2005. A generation of satisfied guests keeps coming back to Glenking, located two miles southeast of Minerva, link, to rest and relax and to enjoy the serenity of 68 acres of wooded land with delightful walking trails and a 3/4 acre pond for fishing bass and bluegill and swimming.
PLEASE NOTE
Businesses and people come and go. If you have stayed at Glenking in the past you may be wishing for more of the same. We plan to terminate our business after Sept. 1, 2012 and we hope to find a buyer for the cabin and our lovely house and woods. We plan to move out of town permanently at the end of the year. If YOU ARE INTERESTED IN BECOMING A RESIDENT INNKEEPER PLEASE CALL US AT 1-877-895-2212.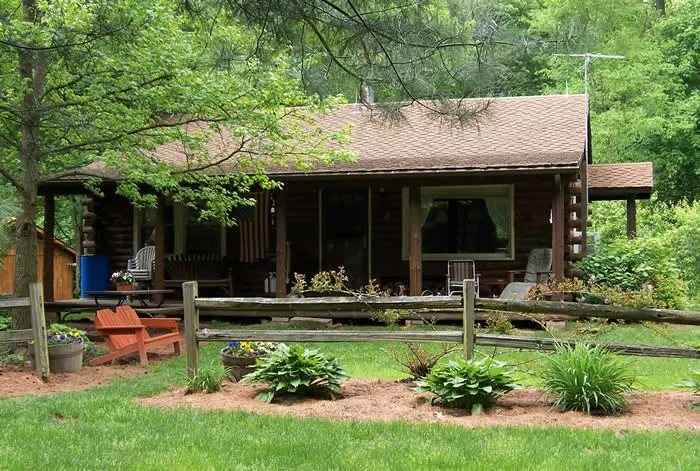 Marilyn King's "killer" sour cream coffeecake and homemade granola will get your day started when you awaken in either your queen-sized or full-sized bed (plus a loft for kids). Lounging on the spacious front porch, your gaze falls on the mature pine woods first. It is only after you have been there awhile that you experience the overwhelming presence of songbirds including Barred Owls, red bellied woodpeckers and Marilyn's favorites, bluebirds. After you have dined at one of the fine restaurants nearby, or have taken advantage of the fully equipped kitchen and the outdoor gas grill, you can build a fire in the outdoor fireplace and make s'mores for your children or your inner child. Like the scenario?
As darkness falls you can walk across the woods to the open field and look at the night sky as you have never seen it before! With no outdoor flood lights near the cabin this is anideal place to study the night sky with your kids!
While there are restaurants available, you may wish to eat at in. There is a full kitchen with microwave and outdoor gas grill. And pure, filtered and tested well-water makes water-drinking fun again. You don't need to bring bottled water.
Other outdoor entertainment includes badminton, volley ball, basketball, horseshoes or just watching the grass grow! The bureau in the living room is full of board games in case of rain and a high quality sound system and DirecTV are yours to use. You simply do not have to be bored at Glenking.
Glenking is very rural, but Minerva is a charming village of 3800 souls and is 10 minutes away. Nice shopping facilities including an IGA market, and the usual assortment of drug and other stores will fulfill your needs. A well-equipped YMCA is available to our guests at no charge because we partner with them in fund-raising. The public library has a good WIFI system you may use without charge. Personnel are helpful and courteous.
Carroll County and the village of Carrollton provide interest and beauty, and Amish Country is about one hour and 15 minutes away.
LOOK BELOW FOR TRAVELLERS ' REVIEWS OF GLENKING
SOME COMMENTS FROM OUR GUESTS / site_map / attractions / res-redirect / directions / amenities / specials / menu / policies / rates / shopping / comments / printable-directions / weddings